Fashion is a canvas for self-expression, and sometimes, it's about breaking traditional norms to create something unique and stylish. The unexpected combination of socks and sandals has emerged as a fashion-forward trend loved by women around the world. This article serves as a comprehensive guide on how to wear socks and sandals for women, exploring various styles, occasions, and outfit ideas that embrace this exciting fusion.
Embracing the Unconventional: The Socks and Sandals Trend
Once considered a fashion faux pas, the trend of pairing socks with sandals has transformed from an outdated notion to a symbol of daring and adventurous style. Today, fashion designers, celebrities, and influencers have embraced this unconventional combination, turning it into a chic and trendy statement that challenges traditional fashion norms.
The Right Pair of Socks for Sandals
Choosing the appropriate socks is key to nailing the socks and sandals trend. The options are vast, ranging from sheer to chunky, patterned to plain, and ankle-length to knee-high. Here are some popular choices to consider:
Ankle-Length Socks:

Ankle-length socks are a versatile option that works well with various sandals, from slides to gladiator-style sandals. They offer comfort and a touch of fashion-forward charm without overwhelming the look.

Sheer Socks

:

Sheer socks add a touch of elegance to any outfit. Pair them with strappy sandals or block-heeled sandals to achieve a sophisticated yet trendy look suitable for dressier occasions.

Patterned Socks

:

For those who enjoy experimenting with patterns, fun and quirky socks with motifs like polka dots, stripes, or animal prints can instantly elevate the overall outfit.

Chunky-Knit Socks

:

Chunky-knit socks are perfect for transitioning the socks and sandals trend into colder months. They bring warmth and coziness to the outfit, creating a stylish contrast against open-toe sandals.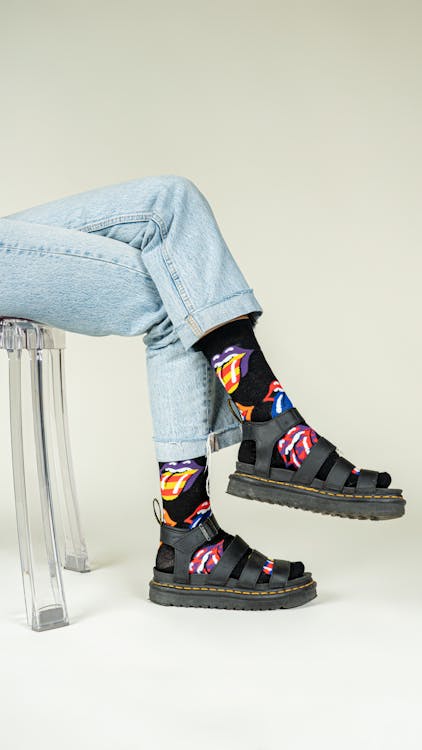 Mastering the Art of Layering
Layering is the key to achieving a well-balanced and stylish socks and sandals look. The art lies in finding the right balance between the sandals, socks, and the rest of the outfit. Here are some tips to master the art of layering:
Monochromatic Look

:

Create a sleek and polished appearance by pairing sandals and socks in the same colour family. For instance, black sandals with black socks offer a streamlined and sophisticated style.

Textured Pairings

:

Experiment with textures to add depth to your outfit. Combining sandals with unique textures like metallic finishes or woven designs with complementary socks can create an eye-catching ensemble.

Colour Contrast:

Embrace colour contrast for a bold and attention-grabbing look. A pair of bright-coloured socks against neutral sandals can make a statement that reflects your vibrant personality.
Socks and Sandals for Different Occasions
The socks and sandals trend is incredibly versatile, offering options for various occasions. Here's how to wear them for different settings:
Casual Day Out:

For a casual day out, consider pairing platform sandals with ankle-length socks and a breezy sundress. Complete the look with a wide-brimmed hat and some statement jewelry for a relaxed yet trendy ensemble.

Formal Events

:

Elevate your style for formal events by choosing elegant strappy sandals and complementing them with sheer or lace socks. This combination exudes sophistication while adding a touch of uniqueness to your outfit.

Business Casual:

For a chic business casual look, pair closed-toe sandals with tailored trousers and ankle-length socks. Add a structured blazer to complete the ensemble, achieving a perfect blend of style and professionalism.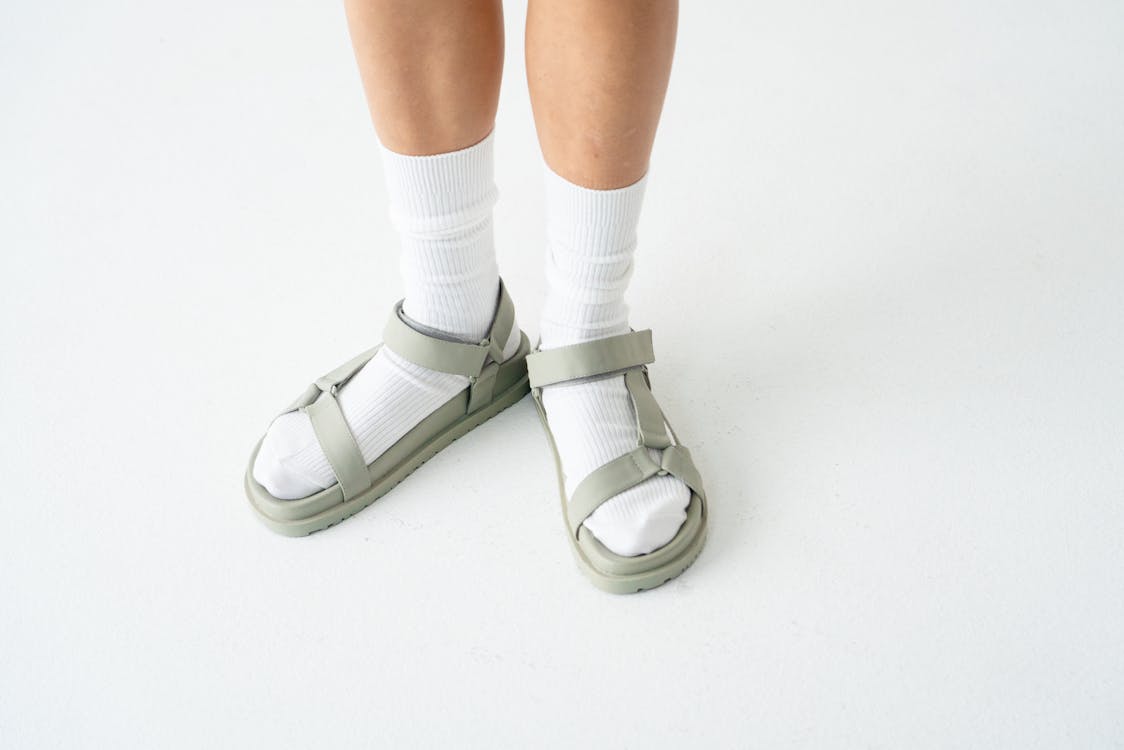 Nailing the Socks and Sandals Look with Confidence
Confidence is the key to pulling off any fashion trend, including socks and sandals. Embrace this unconventional pairing with a positive attitude, and don't be afraid to experiment with different styles, colours, and patterns. Remember that fashion is about expressing your personality and unique taste.
Conclusion
The socks and sandals trend has transcended its initial reputation and evolved into a symbol of fearless and innovative style. By choosing the right socks, mastering the art of layering, and embracing versatility, women can confidently wear socks and sandals for any occasion. Embrace the unexpected, and let your fashion choices speak volumes about your individuality and creativity. Whether it's a casual outing or a formal event, the fusion of socks and sandals allows you to express your personality, setting you apart as a fashion-forward trendsetter.